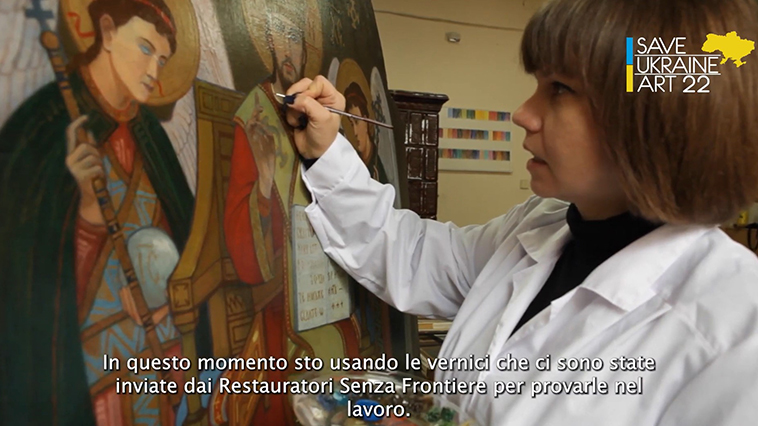 RSF Italy, from the very beginning an active part of the Save Ukraine Art 22 Project for the preservation of works of art in war-torn Ukraine, becomes a fundraising contact for the collection of materials and equipment for restoration.
Restaurateurs Without Borders Italy has been an active and proactive part of the Save Ukraine Art 22 Project since its inception to safeguard works of art in the war-torn land of Ukraine.
After the project presentation meeting on May 31, 2022 in Venice, Italy, the association had already personally engaged in a site visit to LEOPOLIS to view and assess the status of operations to secure and save as many works of art as possible.
THE COLLECTION OF MATERIALS AND EQUIPMENT FOR RESTORATION
This led to RSF's proposal, enthusiastically espoused by Save Ukraine Art 22, to activate a specific aid front for the collection of materials and equipment for restoration: planned restorations that were interrupted because of the war and restorations that became necessary as a result of the war events.
RSF has already helped to send first essential materials, such as painterly retouching colors: the need for any kind of restoration help is very clear in this video-appeal disseminated by Museum Officials in Ukraine.
( video in italian)
HOW TO DONATE.
Materials can be donated by suppliers, or purchased through donations, and will be collected from partner dealers* in Italy and from logistical hubs already established with the Ceccarelli Group.
Donations are collected by Restauratori Senza Frontiere – Italy, inserting the reason "Liberal disbursement for the purchase of restoration materials for Save Ukraine Art 22" and are deductible in the tax return in accordance with current regulations (certification upon request).
The amounts raised will be immediately used to purchase restoration materials such as paints and brushes, adhesives, varnishes, tools and equipment-that is, everything needed by the restorers on site.
To make your donation CLICK HERE
IT IS ALSO POSSIBLE to directly buy the materials INSTRUCTIONS HERE : https://saveukraineart22.org/partecipa-ai-restauri/
* Thanks to the material suppliers who have already joined the project :