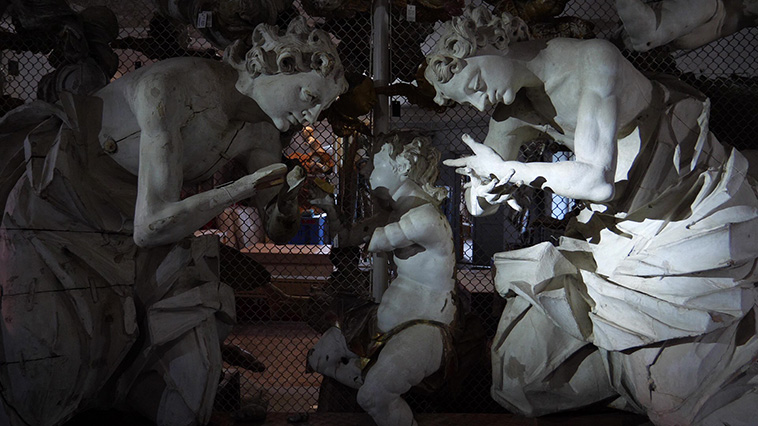 RSF Civil Protection Emergency Cultural Heritage, involved in the Save Ukraine Art 22 project, carried out a mission to Ukraine in early August to assist in organizing the securing of thousands of works, now located in hidden storage facilities in Lviv.

This is not the first time that RSF Civil Protection Emergency Cultural Heritage has found itself intervening in war scenarios, and this conflict, which is endangering not only peace in Ukraine but in the whole of Europe, could not help but involve us deeply.
Our commitment has always been aimed at safeguarding cultural heritage fully described in the spirit of the principles Culture Art and Solidarity, which places the value of culture, attention to dignity and the good of human beings at the center of its activities.
Save Ukraine Art 22 is a project born out of an initiative by Marco Gallipoli and Lucio Gomiero, aimed at supporting Ukrainian museums committed to protecting their collections, especially through active collaboration with Ihor Kozhan, director of the Andrey Sheptytsky National Museum in Lviv, and Taras Voznyak, director of the Lviv National Gallery of Arts and coordinator of the Lviv Museum Network.
RSF Civil Protection Cultural Heritage Emergency, immediately involved in this project, decided to take action by organizing a short-term mission at the beginning of August to assess organizational aspects and the short-term raising of economic funds useful to plead the cause.
Our first missions in cases such as these are composed of a few people and short duration surveys.
Normally, when embarking on a journey to a war territory a number of recurring doubts crowd to the mind; what will we find when we reach our destination? What risks are we going to face? These are the thoughts of always when going to a country that is experiencing a conflict that is holding the world in suspense.
Our group consists of RSF volunteer Tiziano Fortunato, Marco Gallipoli of Save Ukraine Art 22 and myself Pietro Coronas.
The journey, which promises to be long and tiring, initially proceeded in a brisk manner starting by plane from Rome and arriving in Krakow. From there we moved by train with a duration of about 3.5 hours to Przemysl, the last useful train station, and then by car to Medyka town on the border with Ukraine, which we crossed on foot.
After crossing the border we were picked up by car by Ustyna Soroka , wife of Marco Gallipoli, together with him founder and pillar of the Save Ukraine Art 22 project, from there final direction Lviv, hosted at the National Gallery.
Upon arriving in Lviv we were surprised to find a city where life at a fleeting glance appears undisturbed, but where under the lively appearance one can see on people's faces signs of restlessness and worry. Daily life during the day and night is punctuated by sirens, which do not make one forget the dangers and fears, the true constant face of war.
Our days were marked by numerous meetings, focused on 'the importance and preservation of the works preserved in the Museum, we found a great fervor, willingness and commitment to implement the recovery project.
Art and culture for Ukraine, a land rich in history, is in spite of everything a priority, for as we have already found in other war scenarios where we have operated they represent the identity of a people, the same identity that war tends to demolish.Ukraine's cultural heritage consists of works of high artistic quality, among
incidentally present in significant numbers. Entire storerooms are filled with thousands of works, in one room alone we found about 9,000, deposited there for safekeeping.
The Save Ukraine Art 22 project has already provided large amounts of packing material, wooden crates for handling, but also many dehumidifiers. Everything has been put to good use, but there are still many difficulties.
The few Ukrainian restorers present at the National Gallery of Arts are highly trained. Although their country is in a state of war they continue their work, often with few materials and equipment, despite everything they continue their work under the constant nightmare of sirens and with thoughts of their families.
It is always a surprise to see how our work becomes extremely important in crisis situations and gives strong motivation to continue to resist.
Securing such a vast heritage is an immense work, it means identifying its location, inventory, defining case by case the state of preservation, recovery, setting up the storage place for the works.
To this must be added the seriously endangered bibliographic and historical heritage.
The possibility that this endangered heritage may be lost or destroyed is real.
Our return trip back to Italy which took place in the same manner as the outward journey, seemed longer because of the tiredness and emotions felt.
We are left with the feeling that we have left something in Lviv, in that city of apparent calm, something important to bring to fruition.
Pietro Coronas – President of RSF Civil Protection Emergency Cultural Heritage, Treasurer of RSF Italia
---