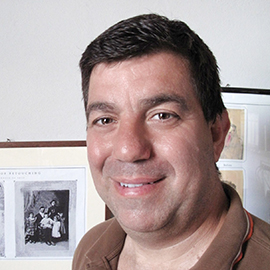 Fratelli Alinari SpA IDEA , Head of Digital Department 1994 – today
He graduated in Photography with a Bachelor in Fine Arts at the Rochester Institute of Technology in 1994 , after obtaining a certificate of Museum Studies at the George Eastman House and attending a training on preservation and restoration under the leadership of Jim Reilly at the Image Permanence Institute. Manager at Fratelli Alinari IDEA spa in Florence, he is responsible for reproduction of works of art, photographic campaigns and national and international cultural projects (especially European research projects such as ICT, Grundtvig , Cost , FP7 and today Horizon 202 tenders) related to photo restoration, forensics , photo- retouching and preservation, for both traditional and digital media. Supervisor for the digitization of the historical archive and the computerized business . Since 2000, he has been responsible for photographic campaigns in Italy and abroad, also involved in all legal aspects concerning photography restoration and preservation. Over the years, Andrea has acquired great experience in the development of artistic and thematic paths , short films , post production and digital restoration . Since 2004 , Andrew has been also coordinator of the Alinari project Save Our Memory which purpose is to collect works of art to be catalogued, restored, scanned and preserved for the next generations, according to the current guidelines ( best practice).
He is member of TauVisual and CEPIC and has already been in various juries cameras , participating to various photographic campaigns in Italy and abroad.
He has been involved in historical and scientific research about authors and archives , projects relating to the promotion of photography through photographic campaigns with the aim to document the region , acquisition and preservation of photographic collections and, consequently, archiving, cataloging and preserving of collected materials , also to avoid the dispersion of this heritage. This approach has allowed us to start the mapping of archives and photographic collections existing on the territory, as well as to identify new photographic collections and new opportunities for professional photographic campaigns .
Manager at Alinari for some technological projects of the European Community such as RAMA , Victor , Aquarelle , Imprimatur , Migrator 2000 Regnet , Artline , Orpheus , Eurogene , MultiMatch , TRIPOD , Fotomemoria , Citer , EuropeanaPhotography , Glocal , Decipher , Paths , AceMedia , and Ambrosia .
Responsible for the engineering design of the business website www.alinari.com