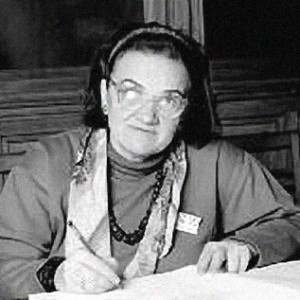 Architect and Full Professor of History of Architecture of the Department of Architecture and Urban Studies ( DAStU ) of the Faculty of Architecture at the Polytechnic of Milan . She teaches History and Technique of Restoration at the Faculty of Building Engineering and Architecture . Member of the Board of the PhD in Conservation of Architectural Heritage , Department of Architecture and Planning at the Politecnico of Milan.
Since 1984  she has directed the book series Architettura: saggi e fonti  at the Jaca Book Edition. She is member of the editorial and scientific boards of several journals: " Communio " and "Arte Cristiana" in Milan, " Arkos " (Journal of restoration) in Genoa and Florence , "Territorio" , Politecnico of Milan . She is  member of the Board of Directors of the Design Museum of the Triennale in Milan. In 2009 she was nominated corresponding Academician of the Academia de Bellas Artes Sant Jordi in Barcelona and in 2012 member of the Pontifical Academy of Fine Arts and Letters of the Virtuosi al Pantheon . She is Scientific Director  of ISAL (Institute for the History of Lombard Art) which headquarter is in Cesano Maderno ( Milan) and director of the "Journal for the History of Lombar Art."
She takes part in national and international conferences . She is also active in the field of conservation and restoration of ancient buildings. She has been a member of the Technical – Scientific Commission of Region Lombardy for restoration works at the Pirelli Tower . From 1998 to 2011 she supervised the general restoration of the Cathedral of San Vigilio in Trento. The huge complex, located in the historic center of the city, insists on previous churches , the first of which date back to the Fourth century . The current Romanesque-Gothic cathedral was begun in the Thirteenth century. The general restoration , begun on the occasion of  the jubilee year 2000, focused on the restoration of the exterior stone veneer ( and , in part, internal ), the restoration of roofs, the restoration of the interior of the Baroque Chapel of the Crucifix .
Most significant publications
Author of more than 300 publications, including: L'architettura nell'aurora della modernità, in E. Carbonell, R. Cassanelli, T. Velmans, Il Rinascimento in Oriente e in Occidente 1250-1490, Jaca Book, Milano 2003, german, french, spanish editions; Per il restauro del moderno. Qualche riflessione sul riconoscimento e il progetto di restauro di architettura del Novecento, in "Territorio" New Series, n.26 2003; Trento cathedral (Italy) – The external façades: diagnostic and conservation works (with G. Alessandrini, C. Colombo, A. Sansonetti, L. Rampazzi), 10thInternational Congress on Deterioration and Conservation of stone, Stockholm june 27- july 2, 2004, ICOMOS Sweden, Stockholm 2004; Editor and front matter of Ponti e la via italiana alla modernità: architettura religiosa e sentimento del tempo, Dagli scritti di Gio Ponti. Sulla condizione umana, la religione, l'arte sacra e le chiese, in: C. Capponi, M. A. Crippa (ed.), Gio Ponti e l'architettura sacra. Finestre aperte sulla natura, sul mistero, su Dio, Credito Valtellinese, Pizzi, Cinisello Balsamo (Milano) 2005; L'architettura occidentale tra fenomenologia di spazi e singolarità di luoghi, in: Joan Sureda (ed.), R. Cassanelli (Italian ed.), L'arte occidentale. Europa Mediterraneo e mondo contemporaneo, Jaca Book, Milano 2008; Architettura benedettina tra XIX e XX secolo, R. Cassanelli, E. Lopez Tello Garcìa (ed.), Benedetto. L'eredità artistica, Jaca Book Mi 2009 (also in:.french, spanish, german.); Romano Guardini i Marie-Alain Couturier. Los orìgenes de la arquitectura y del arte para la liturgia catòlica en el signo XX, in: E. F. Cobian (ed.), Arquitecturas de lo sagrato, netbiblio, La Coruna 2009; Un tavolo di confronto per l'attivazione di un'architettura come ecologia umana, Negli anni Sessanta dall'incontro con Teilhard de Chardin l'approfondimento ecologico di Soleri, pp. 51-70, in: A. I. Lima (ed.), Per un'architettura come ecologia umana. Studiosi a confronto. Scritti in onore di Paolo Soleri, Jaca Book, Milano 2010; italian ed. and author of Il carattere religioso della cattedrale di Gaudì, in: AA. VV., Gaudì, La Sagrada Familia, Jaca Book, Mi. 2010 e re-edit in 2011 (anche in:.fr., sp., ger., eng.); Tensione tra mito e razionalità nel XIX secolo, in: S. Petrosino (ed.), Monumentum. L'abitare, il politico, il sacro, Coll. Archivio Julien Ries per l'antrop. simb., Jaca Book-Università Cattolica, Milano 2011; A proposito di arte, architettura e sacro, e Cesare Cattaneo, per la similitudine contro la metafora, in: M. A. Crippa, D. Cattaneo (eds), E' Dio il vero tema. Cesare Cattaneo e il sacro, Archivio Cattaneo, Cernobbio (Como) 2011; Il monumento nell'architettura occidentale. Persistenza e crisi del termine, in: "Munus", rivista europea di cultura, n. 1, 2012, pp. 39-57, Abitare all'inferno: architetture diaboliche, in: "Munera", rivista europea di cultura, n. 2, 2012, pp. 101-119; Lo studio dei ponti in pietra, in: "Ananke", quadrimestrale di cultura, storia e tecniche della conservazione per il progetto, n. 4, 2012, pp. 192-200; Editoriale, pp. 5-6, Milano da città figurale a città dell'Expo 2015, pp. 7-20, in: "Rivista dell'Istituto per la storia DELL'ARTE LOMBARDA", n. 5, marzo 2012; Il valore testimoniale del patrimonio artistico cristiano, in: "Communio", n. 232, apr. may 2012, pp. 49-54; (with P. Galliani), Continuità, critica e restauro del moderno, "Territorio", n. 62, 2012, p. 67; Restauro del moderno: fortuna critica, incertezze attuative, pp. 68-75, "Territorio", n. 62, 2012; Simboli di culto, dal '900 a oggi, in: "vita e pensiero, n. 5, anno XCV, ott. 2012, pp. 85-89; Provocazioni della materia in architettura: dialoghi con Bachelard, In: AA. VV. Bachelard e le 'provocazioni' della materia, edited by F. Bonicalzi, J. J. Wunenburger, P. Mottana, C. Vinti, Il Melangolo, Genova 2012, pp. 327-33; Monachesimo e modernità, in: "Rivista dell'Istituto per la Storia dell'ARTE Lombarda", n. 6, 2012, pp.15-30; Recensione: Sandro Benedetti. Il cinquecento romano, in: "Rivista dell'Istituto per la Storia dell'ARTE LOMBARDA", n. 6, 2012; Prospettive: problemi di restauro e di adeguamento liturgico, in: AA. VV., San Pietro in Ciel D'oro a Pavia. Mausoleo Santuario Di Agostino e Boezio. Materiali antichi e problemi attuali (edited by M. T. Mazzilli), Comitato Pavia Città di Agostino, Pavia 2013, pp. 432-441; Il moderno processo di una istituzione affermata e poi negata, in "Territorio" n. 65, 2013, pp. 74-80; I manicomi nell'area nordorientale: da costruzione e negazione a gestione del vasto patrimonio pubblico, in: C. Ajroldi, M. A. Crippa, G. Doti, L. Guardamagna, C. Lenza, M.L. Neri (eds), I complessi manicomiali in Italia tra Otto e Novecento, Mondadori Electa, Milano 2013, pp. 127-133; also: Manicomio provinciale di Milano- Mombello, a Limbiate, pp. 138-140; Manicomio provinciale Tirolese a Pergine Valsugana, pp. 145-146; Ospedale neuropsichiatrico provinciale di Bergamo, pp. 149-151; Per la continuità di un'architettura come "mondo umano", in: M. Panzeri, Architettura moderna e progetto umanistico, Jaca Book, Milano 2013, pp. 191-197; Il restauro come progetto culturale – Ragioni e temi, in: AA. VV., La casa degli artisti in Valle Camonica. Un restauro esemplare per i nuovi linguaggi dell'arte, edited by G. Azzoni e M. A. Crippa, Silvana Editoriale, Cinisello Balsamo (Mi) 2013, pp. 23-30; Scientific direction (with L. Castelfranchi) and author of various entries, Leksykon Szutuki Chrzescyanskiej, pp. 980, Polish edition, Wydawnictwo "Jednosc", Kiele 2013.