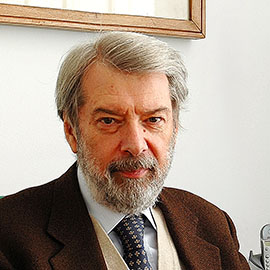 Architect (Rome, 1942), is full professor of Architectural Conservation, professor at the Post-Graduate School of Monument Conservation, past-director of the School of Specialization in Architectural Conservation, University of Rome "La Sapienza". Has given lessons in the Istituto Centrale del Restauro (ICR) of Rome, in the ICCROM, in the Italian Archaeological School of Athens and in the Academy of Architecture of Mendrisio, Switzerland.
Councillor of the Italian Ministry for the Cultural Property and of ICOMOS (Italian National Committee), he has published studies on the history of architecture (Iussu Desiderii. Montecassino e l'architettura campano-abruzzese nell'undicesimo secolo, Roma 1979, 1981; Ninfa, Novara 1994, with other authors; Cesare Brandi. Scritti di architettura, Torino 1996; Santa Maria della Libera ad Aquino, ed. F. Avagliano, Montecassino 2000; La cattedrale di Spoleto, Milano 2002, as editor, with other authors) and on theory, ethics and practice of architectural conservation: La reintegrazione dell'immagine, Roma 1976; Trattato di restauro architettonico, 12 voll., Torino 1996-2011; Avvicinamento al restauro. Teoria, storia, monumenti, Napoli 1997; Architettura d'oggi e restauro. Un confronto antico-nuovo, Torino 2011; La Sala delle Cariatidi nel Palazzo Reale di Milano. Ricerche e restauro, edd. Giovanni Carbonara and Michela Palazzo, Roma 2012; Restauro architettonico: principi e metodo, Roma 2012; Wikitecnica (www.wikitecnica.com) ('Enciclopedia digitale dell'architettura'), edd. Giovanni Carbonara and Giuseppe Strappa, Amsterdam-Milano-Torino 2013-14  (ISSN 2284-001X); Il restauro non è conservazione …, Facoltà di Architettura, Università di Roma "La Sapienza", Roma 2014 (ISBN 9781291676242).
He has founded and directs three editorial collections,  on the history of  building techniques (published by 'L'Erma' di Bretschneider, Rome), on architectural conservation  (published by Liguori, Neaples) and on history of architecture and of conservation (published by Aracne, Rome).
http://www.radicidipietra.it/download/curriculum-carbonara-giovanni.pdf