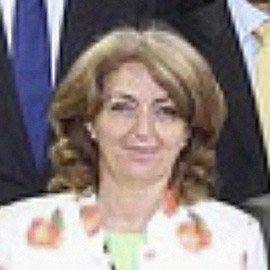 Biologist – Professor at the University of Rome 3
She graduated in Biological Sciences, she is Professor of Environmental and Applied Botany of the Department of Science at the University of Roma 3 and teacher for the Master of Biological Sciences …
She graduated in Biological Sciences, she is Professor of Environmental and Applied Botany of the Department of Science at the University of Roma 3 and teacher for the Master of Biological Sciences. Since 2010 she is Director of the University Centre for Studies of the University of Rome ( CROMA ) .
She has a wide experience in research and teaching on issues of bio-deterioration of materials and their control , botanic planning in archaeological and monumental sites and promotion of cultural heritage, thanks to several activities carried out since the 80s at the ' Central Institute of Restoration (1983-1993) and ICCROM and later continued at the University .
She has an extensive international experience thanks to several attendances in projects of the Ministry of Foreign Affairs ( Moen Jo Daro – Pakistan 1986-88 ) , IsIAO ( Chengde China – 2007) , the Getty Conservation Institute ( Copan Honduras) , Joya De Ceren (El Salvador) ( 2000-01 ) , GCI- GAAC Martvilli (Georgia, 2006-07 ) , the National Research Institute for Cultural Properties,Tokyo ( NRICPT) for the conservation of the temples of Angkor ( Cambodia ) , and the Spanish Ministry of Culture Altamira ( 2013-14 ) .
In 2012 She won the Grand Prix for Cultural Heritage of the European Community – Europa Nostra in the Research Category for her volume on the "Augustus' Botanical Code".
She is the author of over 200 national and international articles and 21 monographs .