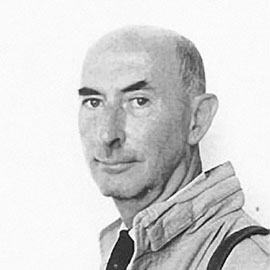 He graduated in Architecture and founded the Studio Metaimago in Rome in 1965.
Maurizio Di Puolo is specialized in Museography and Exhibit Design , he is Professor of the Faculty of Architecture and Industrial Design at the University of  Rome (Sapienza), Ferrara , Naples and he cooperates with Masters and PhD programs , including the IDEA master's degree in Exhibition Design – Exhibiting Architecture at the Polytechnic University of Milan .
He includes important assignments: responsible of the Exhibitions Sector of the Department of Culture, Province of Rome ; supervisor of the sector Major Exhibitions  Arnoldo Mondadori , Milan;  director and founder of MUS.ARCH National Museum of Architecture in Ferrara ; member of the editorial board of EXPORRE ; founding member of AAA , Archives Architecture Association; founder of AAM / Architecture Gallery;  curator of the section Art and Culture for the Italian newspapers "La Repubblica" and "Il Messaggero " ; he cooperates with "Bolaffi Art " and is correspondent in Rome for " Journal of Architecture / Journal of Art " .
He took part to several conferences concerning the exhibit design , the industrial design and architecture .
His activity is mainly focused  on museum environment through the creation of exhibitions and museum arrangements .
Maurizio Di Puolo is also involved in restoration and interior design, photographic campaigns and reportage, editing publications of books and catalogues.
He won the first prize for the project " New Agip service stations " together with Costantino Dardi and Nanni Morabito ; he received an honorable mention during the Schindler 's Award with the work " Climb Up San Marino " in 1994.
Among his several personal photography exhibitions  it must be reminded  "Untitled" , photographs from the archive of Maurizio di Puolo , Ferrara 2004, Cultural Institute " Casa Giorgio Cini". He is member of ADI and founding member of IDEA, the Italian Association of Exhibition Designers .
In the biographical note is available a list of his main achievements and ongoing projects concerning the exhibition design .