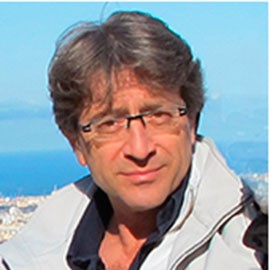 Paolo Pastorello is the owner of STUDIO CRC firm specializing in the conservation and restoration of works of art and cultural heritage. Born in Naples in 1953 , graduated  in Cultural Anthropology at the Faculty of Philosophy of the University La Sapienza in Rome, in 1983 he earned the title of Restorer of Cultural Heritage at the High School of the Central Institute for Restoration in Rome.
He has been teaching and consulting for national and international institutions ( ISCR and ICCROM , Rome , GCI , Malibu , USA; CACH Chinese Academy of Cultural Heritage , Beijing, China) and has participated in projects of great cultural value for the protection of the World Heritage monuments , such as the Tomb of Nefertari , Luxor – Egypt , and the Egyptian Government Project GCI 1987 , the Orpheus Mosaic at Paphos , Cyprus, GCI 1991, the Baroque chapel of the Castle of Valtice – Czech Republic , Project Raphael EEC and World Monuments Fund – New York 1998; wall paintings by Giotto, Cimabue and Pietro Cavallini in the Upper Basilica in Assisi after the earthquake of 1998 , ICR Projects 1999-2002 ; Harem of the Palace of Xerxes – Conservation of a Carved Window of the Residential Palace of Xerxes , Persepolis , Iran, University of Bologna – UNIBO and IsIAO – Iranian – Italian Joint Archaeological Research Project 2011).
Specializing in the conservation of paintings , mosaics and stone , has made ​​the restoration of important works of art and monuments such as the frescoes by Guido Reni and Lanfranco in the Oratory of S. Andrea al Celio , Rome , the Palatine Chapel Palermo ( wooden ceiling painted Muqarnas Arab-Norman mosaics and wall and floor of the century. XII ), wall paintings and mosaics from the Roman period ( Pompeii , Houses of Romulus and Remus, to Triptolemus and Calpurnius Diogenes , 2008; Castellammare di Stabia , Roman Villa of Ariadne, 2008; Rome , Capitoline Museums , Roman polychrome mosaic depicting the Rape of Proserpine , 1997) and important paintings on canvas and wood , masterpieces of Perugino , Tintoretto, Palma il Vecchio, Bronzino , Agnolo Gaddi , Federico Zuccari Guercino , Jan Gossart , Gerard David and other Italian and Flemish masters , He also oversaw the publication of the results of the most important . He is currently engaged in the restoration of the wall paintings and stucco of the Carracci Gallery in Palazzo Farnese, Rome (WMF and Embassy of France) , in charge of ATI Farnese.