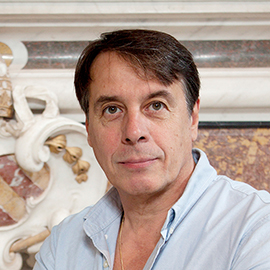 He was born in Rome on 27 June 1960 , a founding partner with Cristina Balzani , society Kermes snc Conservation of Artistic Heritage established in 1988 . He works in national and international territory. He constantly explores the themes of conservation and restoration through research and investigation , in collaboration with institutes of different disciplines. The activity is divided between laboratory and shipbuilding : the first is at the core of the work , coordinating a close-knit team of operators and technicians, focuses on real estate and furniture works in museums, private and public institutions within the architectural , sculptural and pictorial . While the laboratory work focuses on mobile works , He has worked on problems of conservation of works : Antoniozzo Romano , Giovanni Andrea de Magistris , Pinturicchio ( school ), Giorgio Vasari , Mattia Preti, Andrea Belvedere , Benedetto Alfieri , Pelizza Volpedo , William Morris , Angelo Morbelli , Gustave Courbet, Giorgio De Chirico, Lucio Fontana , Mario Schifano, Sandro Chia, Enzo Cucchi, Mimmo Paladino.
In 1994 after the flood that struck the Piemonte region , especially the City of Alexandria, he start to have a particular interest for issues on  conservation in emergency and founded a group of Primary Care for the Protection of Cultural Heritage. Following, in conjunction with other volunteers of Civil Defence and Restorers he estabilished the Group Civil Protection of Cultural Heritage .
In 1998, the group operated in the area affected by the earthquake in Umbria and Marche , dealing with recovery of works of art . This group, has been awarded the Prize Round Saviors of Art – Brands section " … for having reassembled the broken fragments of an art and a commitment to solidarity without borders .. " .
In 1998 he was awarded with the Diploma of Merit with medal by Interior Minister Giorgio Napolitano, to "… had carried out activities related to the emergency in the regions of Umbria and Marche hit by the earthquake in September in October 1997 ..".
In 2009 he became head of the organizational structure of the Civil Protection of Cultural Heritage CB90 Al1 – ARI Restorers Association , created to establish a working group with highly qualified professionals to intervene in emergency cultural heritage . The group operates in the earthquake of 6 April 2009 L'Aquila with a presence in about 12 months. The group is nominated for Rotondi , Saviors of art for the year 2010 .