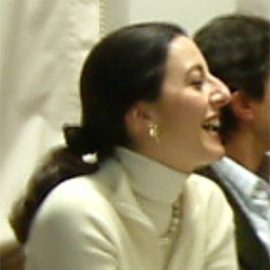 Communication and marketing advisor, expert in content design, she collaborates with public institutions, businesses, non-profit organizations. She has been teacher of economics, business, communication and cultural management topics for almost twenty years in several public and private universities and at the Academy of Fine Arts.
She was born in Rome in 1959, she graduated with honors in classical studies at the University of Rome "La Sapienza" and then she carried out her professional career in the cultural field , working, among others, for RAI ( Radiodue 3131 ) and Publishers ( Editalia Laterza ) , she also edited the Italian edition of the Unesco Courier , as well as edited and translated works on classical antiquity (J. Le Goff and others).
She accomplished a Master in Business Communication ( Publitalia '80 ) and worked for the Fininvest Group ( 1989-94 )  in Milan for several years, in the area of ​​ institutional and external relations with the cultural sector.
In 1994 she received – as first Italian national admitted to the course – the European Diploma in Cultural Project Management organized in Delphi by the European Council, the European Commission and UNESCO.
She has collaborated with public and private cultural institutions ( Stable Theatres , museums, national foundations , public administrations ) . In recent years , she has been particularly dedicated to analysis  concerning the impact of IT on organizational processes and public communication , and design training initiatives, both in person and in the distance, for universities and businesses.
She has worked, among others, for ICCROM (for which she collaborated with an international research on conservation research funding), the European Council, the Presidency of the Council of Ministers – Department of Public Administration , the National Research Council , the Accademia Nazionale dei Lincei , the National School of Cinema Foundation , Giovanni Agnelli Foundation.
She is Chairman of the Evaluation Team of the Conservatory " Niccolò Paganini" and the Conservatory " Francis Morley " in Perugia , as well as a member of the Evaluation Team of the ISIA – Higher Institute for Artistic Industries in Florence. She was President of the Evaluation Team of the Conservatory " Luigi Cherubini" in Florence for two mandates.
She has also collaborated with the LLP-Erasmus National Agency for the implementation of the Bologna Process.
She was a member of the working group which defined the profile of the professional communicator (UNI 11483:2013 ) for UNI – Italian Organization for Standardization.