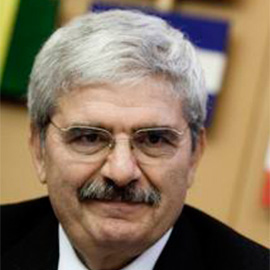 Stefano De Caro was elected the Director-General of ICCROM during the 27th General Assembly in November 2011. His appointment follows a long career as an archaeologist, public official, author, lecturer and teacher in several Italian universities, and former Director-General of Antiquities with the Italian Ministry of Cultural Heritage and Activities (MiBAC).
Born at the foot of Mount Vesuvius, De Caro pursued a career in the study of classical archaeology beginning with a degree in Humanities from the "Federico II" University of Naples. He later continued his studies in archaeology at the "Sapienza" University of Rome and the Italian School of Archeology in Athens, Greece.
He began his career with the Ministry of Cultural Heritage and Activities (MiBAC) in 1976 as an archaeological Inspector in the region of Molise, and later directed the Excavations Office in Pompeii. In 1991, he became Superintendent of archaeological heritage in the provinces of Naples and Caserta, and was later appointed Regional Director of cultural heritage and landscapes in the Campania region. In this capacity, he coordinated the work of various local branches of the Ministry: monuments, sites, museums, national archives, and libraries.
From 2007 to 2010, Stefano De Caro took over the position of Director-General of Antiquities with MiBAC, where his vast responsibilities included, among others, advising the Minister on conservation programmes; organizing the work of regional offices on conservation and use of archaeological heritage; and developing national guidelines on rescue archaeology and cultural resource management. He was also instrumental in negotiations for the return of archaeological objects illegally exported abroad, and served on a Ministry commission charged with negotiating bilateral and multilateral agreements for these restitutions.
Following his career at MiBAC he consulted privately for projects in China, France, Italy, and Russia on cultural heritage and landscape management, in particular, art exhibitions, cultural resource management, training, outreach, and fundraising. He is also a well-known lecturer and registered journalist, collaborating on several scientific publications and journals.
Stefano De Caro is well known to ICCROM, having represented the Italian government on the ICCROM Council from 2008 to 2011, and through his involvement on the Scientific Advisory Board of the Herculaneum Conservation Project, a partner organization. He has over 250 publications to his name on topics ranging from Greek and Roman archaeology to the preservation of historic centres, cultural landscapes, and intangible heritage. He is also a member of several professional cultural associations in Italy and abroad, including the Europae Archaeologiae Consilium (EAC), ICOMOS, and the International Scientific Committee on Archaeological Heritage Management (ICAHM). He has received a number of awards and distinctions in Italy and elsewhere for his cultural merits, the most recent one being the Outstanding Public Service Award from the Archaeological Institute of America.
Often working in difficult social and economic contexts, De Caro has been frequently asked why precious resources should be put towards the conservation of cultural heritage. His best answer, he believes, is that "man does not live by bread alone", but also by thoughts that are nourished by memories. Cultural heritage is the great reservoir of memories of human kind. To make use of this memory, preservation of cultural heritage is essential, but it does not end there. For as the motto painted on the ceiling of the Naples National Archaeological Museum reads, objects of memory, even if conserved lovingly, languish — iacent nisi pateant — if they are not exhibited to the public.