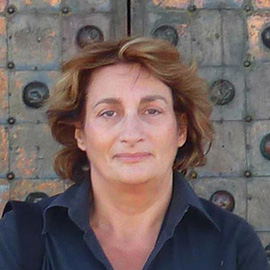 Conservator graduated from the Central Institute for Restoration in Rome, in 1986 she start to work as a freelancer in the field of conservation and restoration of cultural heritage. She carries on his profession since 1987 in various specialized fields such as restoration of paintings on canvas and board, frescoes and wall paintings, wood and stone surfaces. She has worked for several years in the field of archeology for Rome and Pompeii Archaeological Superintendency
Among the recent restoration:
The restoration of the funerary monument of Cardinal Fortiguerri by Mino da Fiesole.
The restoration of the stucco, in the vaults of the northern passage of the Flavian Amphitheatre.
The frescoes from the Roman period in the Casa dei Quadretti Teatrali in Pompeii.
The ciborium by Arnolfo di Cambio, in the Basilica of St. Cecilia in Rome.
The canvas by Guido Reni, in the chapel of the bathroom, in the Basilica of Santa Cecilia in Rome.
Dismantling and restoration of the pavement of the Temple C of the Sacred Area of Largo Argentina in Rome.
She is currently in the team for planning and consulting for the restoration of the art works in the  Basilica of the Nativity in Bethlehem
Among the latest publications:
The Conservation of the Church of the Nativity in Bethlehem and the preliminary restoration project of the decorated surfaces, in Journal of Cultural Heritage, 2012
"Conservation Work on canvas by Guido Reni." In: Daila Radeglia, eds, "Restoration at St. Cecilia 25 years of operations of the Institute for Conservation and Restoration." Edifir Florence 2009.
"Notes on the restoration of the tabernacle." In: Various Authors "Santa Cecilia in Trastevere." Palombi Publisher 2007.