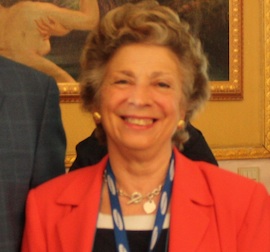 Full Professor of Restoration of the Faculty of Architecture at the Polytechnic of Turin.
Permanent member for CIAV ( comitée International d' Architecture Vernaculaire ) and Vice-President for CIVVIH ( Comitée International des Villes et Villages Historiques ) at ICOMOS in Paris (UNESCO) since 1981 and TICCIH – International Committee of ICOMOS – Industrial Architecture (UNESCO) since 1997.
UNESCO expert for the assessment of candidates to be included on the List of World Heritage Sites since 1985, she has attended a number of missions abroad instructing several dossiers of candidates and procedures for the Word Heritage List (Portugal, Algeria, Montenegro, etc.) . Included in the list of Italian experts for UNESCO according to the Joint declaration on co-operation on the cultural and natural heritage between the Italian government and UNESCO (15/03/2001)  and Member of National Commitee founded by the Ministry of Cultural and Environmental Heritage for Management Plans of Italian sites inscribed in WHL and for the definition of local tourist systems by UNESCO.
Project consultant and representative of Persepolis Project (Iran ) for the Research Centre for Conservation of Cultural Relics ( RCCCR ) (Iranian Cultural Heritage Organization) since 2002.
Consultant for the development of cultural heritage of Montenegro ( since 2003).
Consultant for the architectural restoration for Italian Association FAI ( Italian Environment Fund ) from 1998 to 2005 .
Expert in urban and environmental renewal and UNESCO management plans ( The late Baroque in Val di Noto, Eastern Sicily) .
She edited the Conservation Plan in Bethlehem (Palestine) , Mdina (Malta) , Ieranto ( Punta Campanella – Naples) , in the mining areas of Sulcis-Iglesiente in Sardinia , etc. . Designer and manager in several architectural and archaeological restoration projects as Villa Gregoriana (Tivoli) , the Palazzina Gregoriana at Quirinale hill (Rome) , she is the author of numerous essays  and texts in the field of conservation and restoration.