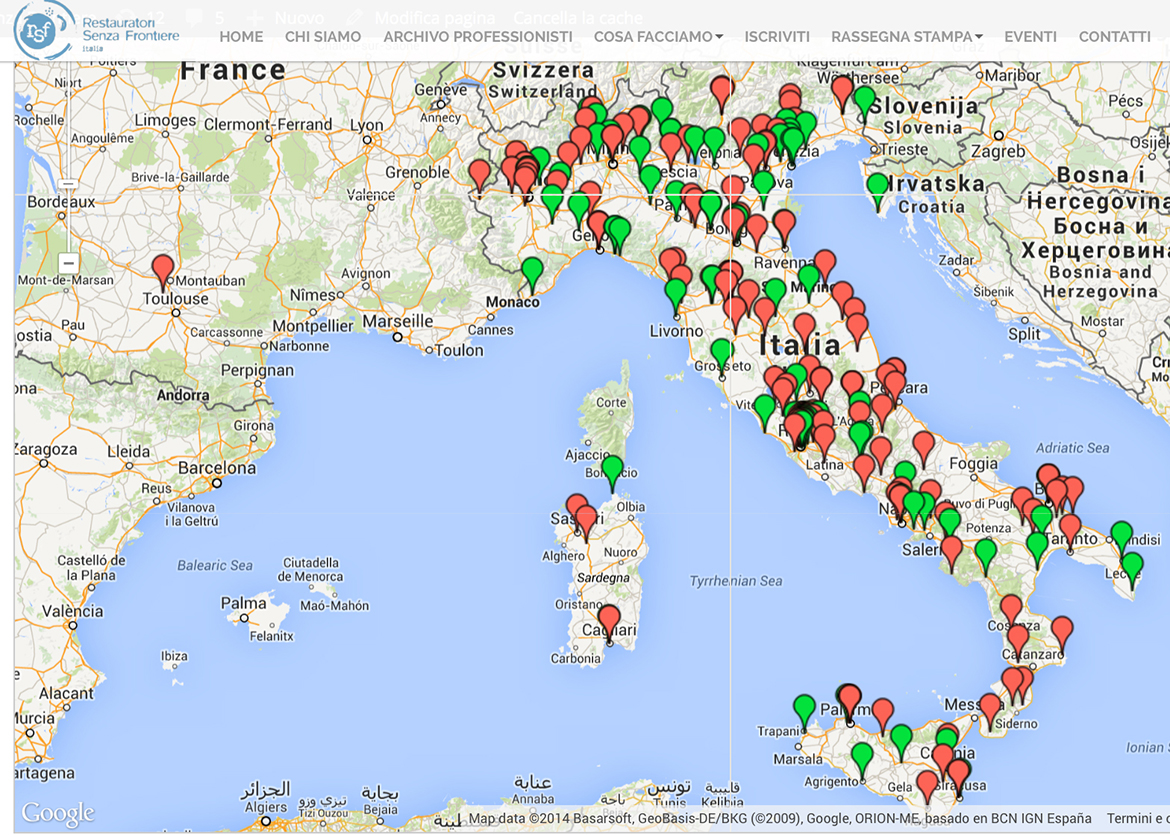 RSF is pleased to announce the opening of the Cultural Heritage professionals map.
Anyone who wants to publish its own professional profile, may do so asking to sign up as a Membership of the Association, or by registering for free as a sympathizer
We remind you that Restorers Without Borders was founded only a year ago, with the intention of giving value to the Italian restoration because this still represents a record in Italy and in the world.
Through a census of Italian professionals engaged in the conservation and restoration of cultural heritage, RSF has given birth to her first self-financed project. Editing your profile as a member will give a first concrete contribution to the project and to the Association, bringing simultaneously  greater visibility to your business. As a member, RSF offers you the chance to create within the Site of the Association, a geo-located archive, a showcase in which outline in detail your professions, your skills and the work you carried out, with the possibility of enter  links, photos, project proposals, reports and notices of your events and activities.
As a Member you can also participate personally to the activities of the Association.
Editing your profile as a Sympathizer you could make visible your basic profile for free, indicating your name, surname, place of performance of your business, profession/s with the relative indications of specializations; therefore also you will give a first contribution to the project and at the same time bringing more visibility to your business.
This window can be displayed by institutions and / or public institutions, and private who access to the archive for research professionals to use in their projects.
RESTORERS WITHOUT BORDERS ITALY THANK ALL THOSE WHO HAVE AND ARE STILL HELPING WITH ENTHUSIASM TO THE IMPLEMENTATION OF THIS FIRST PROJECT. WE ARE AWARE THAT THIS 'REPRESENTING AN ESSENTIAL BASIS FOR OBTAINING GOOD RESULTS IN MANY ACTIVITIES' WE EXPECT IN THE FUTURE.